Varios Artistas
TODOELSABORALPUEBLO!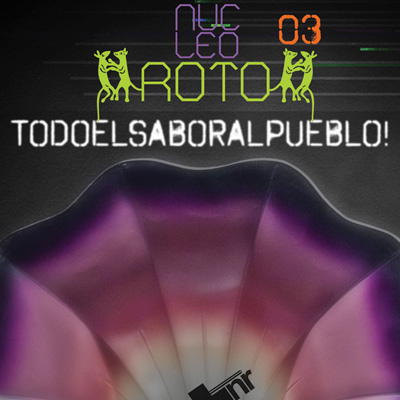 Nombre:
TODOELSABORALPUEBLO!
Artista:
Released:
País: Worldwide
Fecha: 01 / Enero / 2012
Tipo: Compilation
Información:
TRACKLIST
Aut.he – A mi manera
Morfonik – Duplicator
Anna Bolena – Foggy Rome
Degstort – Reintegracion
Lowkilla – Demon and Angel
Pablito el Drito – urx
Mixfuckedup – otro sistema es posible
Fire at Work – November Drama
Agrecitizen – Old Days
Lumen lab Ft. Jack´s son – Purple duck
Letter D feat. Remo Virogha – Pacto de Sangre
Proter – remota existencia de un atomo de magia
Solrac – Cadena
Murdarah – Lado A vs Lado B (Nucleo Roto Mix)
BamBamBam – Reese's Rant
DIFUNDE LA PALABRA/SPREAD THE WORD/DIFFONDE LA PAROLA
NR03 MX. Nucleoroto Musica 2011/2012
Some Creative Commons
Creative Commons License
NCATALOG NUMBER: NR 03 TITULO "TODOELSABORALPUEBLO!" ARTIST: Various Artists FORMAT: Digital Compilation Release COUNTRY: Mexico YEAR: 2012 by nucleoroto musica is licensed under a Creative Commons Attribution-NonCommercial 3.0 Unported License.
Based on a work at nucleoroto.org
HECHO EN MEXICO PARA LATINOAMERICA Y EL MUNDO
Mastering Mixfuckedup.net
Artwork Carlos Abrego daesfunka
Photo Amerika Arzate
Thanks to Stirpe999, Rxstnz, Idroscalo, AC-IN, UnitedBassLines, Electrofilia and all of You real people doing souldbending around the world. Support your local monsters, stop global nightmares. Kill your politicians before they kill you.
Comparte este Release