MindReflex
Embrace the Chaos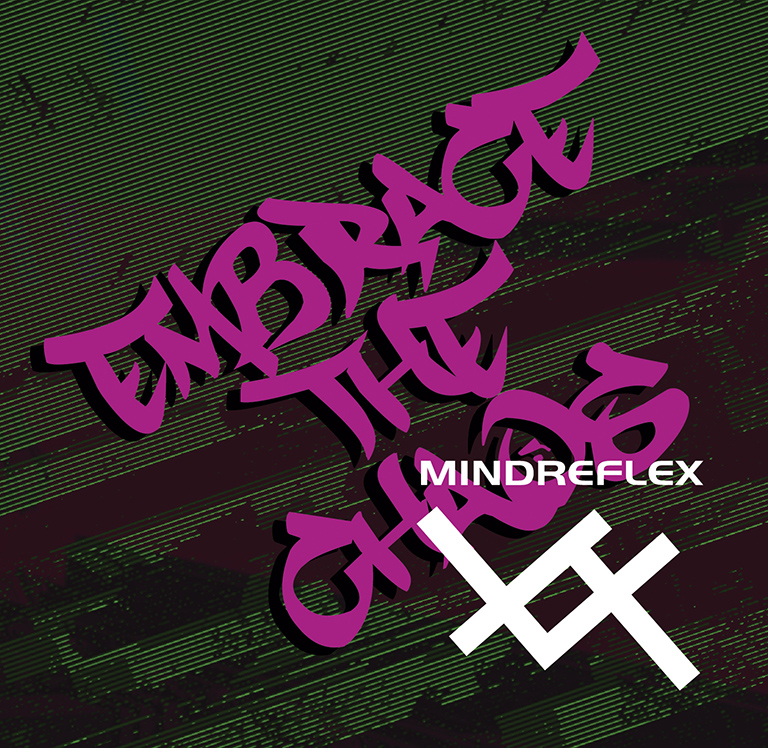 Nombre:
Embrace the Chaos
Artista:
Released:
País: Brasil, Sao Paulo
Fecha: 12 / Octubre / 2022
Tipo: EP
Información:
Tracklist
1 No Heart
2 Embrace the Chaos
3 Accept Disorder
4 We are a Joke
5 Intense People Dance
6 Reign of Terror
NR29, MX. Nucleoroto musica 2022
Some Creative Commons
All tracks by Leandro Tanna
soundcloud.com/mindreflex
Sao Paulo, Brasil
Artwork by Daesfunka
*Português
Embrace the Chaos EP foi criado com diversas fusões de estilos, já caracteristicos das criações do MindReflex.
Ambiente Breakbeat com batidas fortes, secas e impactantes dentro de um estilo único frenético, distorcido e ruidoso.
Agradeço Nucleoroto por dividir e espalhar um pedaço do Mindreflex para nossos amigos Latino Americanos e do Mundo.
Leandro Tanna (MindReflex)
*Español
Embrace the Chaos EP fue creado con varias fusiones de estilos, ya características de las creaciones de MindReflex.
Entorno breakbeat con ritmos fuertes, secos e impactantes en un estilo frenético, distorsionado y ruidoso único.
Agradezco a Nucleoroto por compartir y difundir un fragmento de Mindreflex entre nuestros amigos de América Latina y el mundo.
Leandro Tanna (MindReflex)
*Inglês
Embrace the Chaos EP was created with several fusions of styles, already characteristic of MindReflex creations.
Breakbeat environment with strong, dry and impactful beats in a unique frantic, distorted and noisy style.
I thank Nucleoroto for sharing and spreading a piece of Mindreflex to our Latin American and World friends.
Leandro Tanna (MindReflex)
Bio MindReflex
*Inglês
L.Tanna aka MindReflex is a brazilian underground music producer from Sao Paulo.
He started his musical experiments in 1997, always searching for new blends instead of the usual mainstream.
His work is influenced by many genres such as down-tempo, uk garage, techno, drum&bass, breakbeat and trip hop or whatever sounds new and raw.
An artist against the grain that composes strictly based on his instincts…his musical background and unique concepts.
*Português
L.Tanna Aka MindReflex e Another Unik Sou, produtor de underground music, natural de São Paulo/Brasil.
Começou seus experimentos musicais em 1997 procurando sempre novas sonoridades e buscando estilo próprio fora do Mainstream.

Sempre compondo através de seus instintos, apoiando-se em algo que venha de inspiração, nunca um reflexo do atual ambiente musical, pois musica é atemporal, não envelhece desde que seus neurônios consigam interpreta-la. Musica é o reflexo de sua mente, é um espelho de sua alma.
*Español
L.Tanna alias MindReflex es un productor brasileño de música underground de Sao Paulo.

Comenzó sus experimentos musicales en 1997, siempre buscando nuevas mezclas en lugar de la corriente principal habitual.

Su trabajo está influenciado por muchos géneros como down-tempo, uk garage, techno, drum & bass, breakbeat y trip hop o lo que suene nuevo y crudo.

Un artista a contrapelo que compone estrictamente en base a sus instintos … su bagaje musical y conceptos únicos.
Links
Facebook
Comparte este Release